Yup that's right... BLACK teeth. That's the latest side effect of Quinn being on Iron supplements. Nice eh? His two front teeth look as if they died at the root. I sorta noticed when I was brushing Quinn's teeth last week before I put him to bed. I think I mentally blocked out the image in my head thinking, "maybe he ate a piece of dark candy." The next day my Mom pointed it out. I immediately did what any parent would do... I googled "black teeth."
I guess this is a known side effect of being on iron supplements. Aparently I didn't read up enough on these liquid supplements before I began giving them to Quinn. Gaah! I called the pediatrician and tried to describe the situation to the receptionist. I got an immediate response from the advice nurse who tried to convince me that Quinn fell and had a tooth injury. When the actual pediatrician called back, she explained it was a side effect of the Iron supps.
The good news is the dentist could probably buff the stain out when Quinn goes for a cleaning. The bad news....Quinn has to go to the dentist for a cleaning. Lord help me get this kid in a chair at the dentist's office. I think I'd rather have my cavities filled. Literally. The other good news is that Dr. Ward was willing to let me try to get Quinn's Iron levels up by switching up his diet and ditching the supplements. Yeah!
Here are some pictures from Quin's birthday party. It was a lot of fun. We had the party at a play place called Funtastic. Here is what it looked like.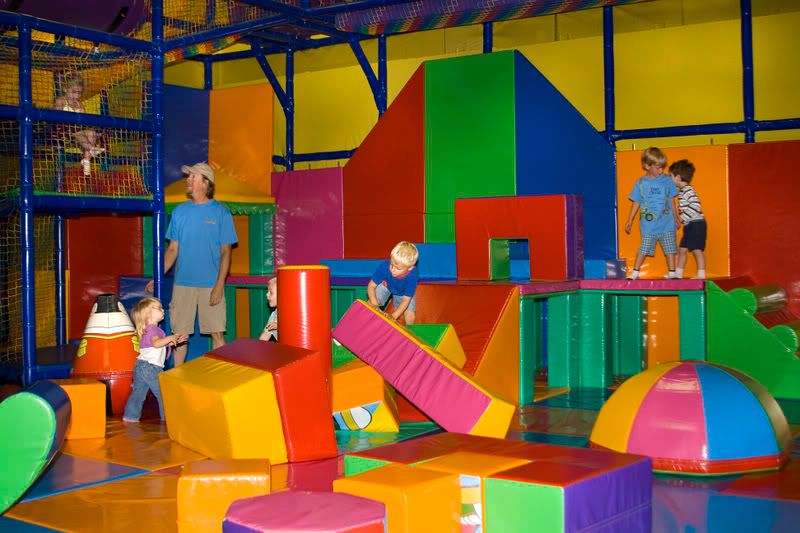 It was lots of fun for the kids and the adults. There were rope ladders, twisty slides, and floor puzzles. What more could you do for a 4th birthday? Below is Quinn's special tractor cake. His Aunt Doodle (Daphne) made it by Quinn's special request. We have no clue where he gets his interest in John Deere tractors.....???
Mmmmmmm cake time!
It looks like Quinn had some help with those birthday candles.